[UPDATE] Bloodbath as Gunmen Attack PDP Presidential Aspirant's Convoy
A very sad report reaching Eflex9jablog says dare devil gunmen, suspected to be assassins have attacked the convoy of one of the front runners in the just concluded People's Democratic Party (PDP) Primaries, and Governor of Sokoto state, Aminu Tambuwal.
Atleast one person has been confirmed dead from the incident which happened yesterday.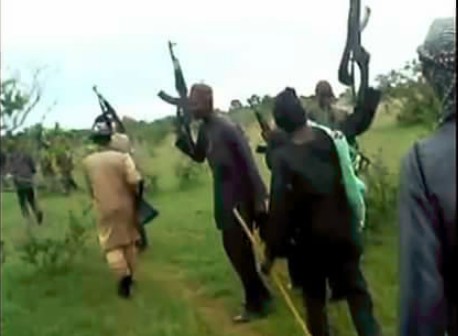 The Police Command in Sokoto State said the victim died as a result of stray bullets fired when the hoodlums attacked the governor's motorcade in the state capital, Sokoto.
The command's spokesperson, DSP Cordelia Nwawe, told Eflex9jablog that one other person who was injured during the incident had been hospitalised.
Eflex9jablog reports that the PDP had organised a reception rally to welcome Tambuwal after his failed attempt to secure the 2019 presidential ticket of the party.
According to the News Agency of Nigeria, the governor was received by a crowd of supporters at the Sultan Abubakar III International Airport, Sokoto and went in a convoy to the Government House when the incident happened.
"The event was, however, not-hitch free as political thugs armed with dangerous weapons destroyed billboards, building structures and vehicles bearing inscriptions of the opposition party."
"A car bearing the APC logo and painting travelling to Sokoto from Bodinga was also set ablaze by mobs along the Sokoto State University."
"The motorcade was then forced to stop along Gawon Nama, near the resident of Sen. Aliyu Wamakko, when another set of hoodlums carrying arms confronted it."
"It took the efforts of security operatives to get it moving again."
A relative of the deceased who pleaded anonymity told Eflex9jablog that the deceased, Imran Ahmad-Alkanci, was on his way home after visiting family relations when the incident happened.
The source said the 22-year-old was trying to get a commercial motorcycle when the bullet hit him.
Stay with Eflex9jablog
Want to Promote/Advertise Your Music, Video or Report A Situation To Us?
Feel Free To Call, SMS or WhatsApp Us: +2348135874272.
NOTE: eflex9ja Blog is not responsible for any advert on the comment section of this Site. All our Authors are responsible for whatsoever they post on the site.
Share this post with friends:
Like Us On Facebook
Follow Us On Twitter
Follow Us On Instagram